SAGC 2009 Report - South Asian Global Convention 2009 (SAGC 2009)
Published 08/31/2009

Unrated
Pritam Singh Sandhu
Pastor Pritam Singh Sandhu is a Punjabi Christian and live in Singapore. He is the
founder of South Asian Connection
http://www.southasianconnection.com
and lead
Pastor of South Asian International Fellowship
http://www.saifchurch.com
- a multicultural church reaching out to the South Asian community in Singapore and beyond.
South Asian International Fellowship also has a SAIF-Telugu and SAIF Tamil congregation - a focused targeted weekly evangelistic ministry to the migrant workers of Telugu and Tamil origin in Singapore mainly of blue collar shipyard and construction workers and some mission focussed Indian Singaporean PR families.
SOUTH ASIAN INTERNATIONAL FELLOWSHIP
SUNDAY SERVICE
SAIF English Service
5.00 – 6.30pm
SAIF Telugu Service
  8.00 – 9.00pm
SAIF Tamil Service
    8.00 – 9.00pm
Location - COVENANT HOUSE 110, Race Course Road, Singapore (218578) - 5 Minutes Walk from Little India MRT Station EXIT E
The Vision Of South Asian International Fellowship Is To Establish An International New Testament Type Ministry Through Which South Asians Will Be Empowered To Reach And Disciple The Nations For Christ.
Pastor Pritam Singh Sandhu is also the International Coordinator for the South Asian Global Convention
http://www.SAGC2009.com
- an International Gathering for South Asian Christian Youth and Young Adults for Mission Mobilization. He has served as the Youth Pastor/ Leader of Khush Khabri Fellowship in Singapore [1996-2000, 2005-2007] and Youth Pastor at the International Punjabi Masihi Church in Vancouver, Canada [2000-2005].
He was a former Sikh-Christian now, a dreamer, a visionary leader and a risk-taker in God's Kingdom. He is passionate about young people and mentoring the Next Generation of South Asian leaders. He is also interested in networking among churches and engaging the cultures.
Pastor Pritam Singh Sandhu was a Biology and Chemistry teacher at Bukit View Secondary School and Vice-Principal at BMC Training Institute, a private education school in Singapore. He holds a Bachelor of Science [Biology] degree from the National University of Singapore, a Post-Graduate Diploma in Education [Distinctions] from Nanyang Technological University, a Certificate in Christian Ministry from the Asian Christian Training School in Malaysia and a Masters of Christian Studies in Applied Theology from Regent College in Vancouver, Canada.
Pastor Pritam Singh Sandhu is also a Singapore registered licensed marriage solemnizer and conducts both civil and ceremonial marriages.
Pastor Pritam Singh Sandhu has two children - Sujaan Kaur Sandhu [born 21/06/04] and Saajan Singh Sandhu [born 04/01/09], and is married to Dr. Balbir Kaur Chaal, a UK-born Punjabi Christian and Cambridge University educated molecular biologist.
View all articles by Pritam Singh Sandhu
South Asian Global Convention 2009 (SAGC 2009)
SAGC 2009 Report
South Asian Global Convention 2009
(SAGC 2009)
July 22-26, 2009 - SINGAPORE
Click Here for Full
SAGC 2009 Report
Third Trans-Denominational and International Christian Gathering for South Asian Youth and Young Adults for Mission Mobilization
"
This day is sacred to our Lord

.
" Nehemiah 8:10c
The third international gathering of South Asian Christian youth, young adults, and ministry leaders from around the world took place in Singapore from July 22nd -26th, 2009 at the South Asian Global Convention 2009 (SAGC 2009). The theme chosen for this third convention was "
Beyond Boundaries
" based on Isaiah 54:2
In July of 2001, God laid a vision in the hearts of various leaders of the
South Asian Diaspora
for a new and relevant work aimed at the present and next generation of young
South Asians
. With this goal in mind, a core group was formed of South Asian ministry leaders and advisory council members from different countries and denominations. These individuals joined their hearts in fervent prayer for God's wisdom and creativity to turn this vision into a reality. And so was born South Asian Connection and plans for the first South Asian Global Convention. The very historic SAGC 2004 was held in Vancouver, Canada followed by SAGC 2007 in London, United Kingdom.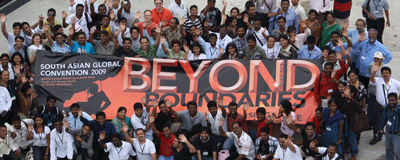 The objectives of SAGC 2009 were five-fold:
To celebrate in worship our eternal God
To challenge Christian South Asian youth and young adults to embrace the Great Commission
To equip Christian South Asian youth and young adults to work locally but to think globally in evangelism
To communicate ideas, strategies and resources
To provide opportunities for relationship building and networking
There were fifteen different missions organizations and specific South Asian youth ministries represented at SAGC 2009 through informative Exhibit Booths and Video Presentations.
Each generously made their resources available to interested delegates. Some of these include Parivar International, Christian Broadcasting Network, GEMS Missions, Operation Mobilization, Passion to Reach Ministries, Urban India Ministries and The Orphanage Project .
The SAGC 2009 experience was further enhanced through the "
Eco-Urban Tour of Singapore
"- a half-day sightseeing tour of the major tourist sites of Singapore including walking tours of Serangoon Road, the Esplanande Marina Bay WaterFront and the Padang.
Each participant was encouraged to pray and bless at least three people that they meet during their walking tour of Singapore. The SAGC 2009 participants worshipped the Lord in the public parks with songs, prayers and prophetic declarations to be a "Beyond Boundaries" blessing to the nations
. It was a memorable experience as SAGC blessed Singapore and the countries of the southern hemisphere at the strategic point of Mount Faber and countries of the northern hemisphere at the strategic point of the Kranji Dam.








SAGC 2009 was experienced by about 350 delegates and invited guests between the ages of 16 and 45, varying from students to young urban professionals and ministry leaders, representing over fifteen different denominations.
All evening and the Sunday plenary sessions were open to the public who thoroughly enjoyed the program.
The South Asian diaspora is spread out in many parts of the world thus making
SAGC 2009 a truly global experience
. Delegates came from many different nations including Canada, Australia, India, Kenya, United Arab Emirates, Saudi Arabia, Sri Lanka, Malaysia, Nepal, Thailand, New Zealand, Pakistan, Cambodia, Philippines, Singapore, Scotland, United Kingdom and the United States. The following South Asian language groups were also represented: Gujarati, Hindi, Malayalee, Marathi, Nepali, Punjabi, Telugu, Tamil, Sinhalese, Bengali and Urdu. SAGC 2009 brought socio-cultural and spiritual unity amidst a great diversity of the South Asian diaspora to the glory of God.

SAGC 2009 was conducted entirely in the English language with the theme song "He Reigns" by Newsboys.
The SAGC 2009 program consisted of seven plenary sessions, thirty-six seminars, six talk-show style interviews, seven different worship bands, a talent night and twelve video presentations of God's work locally and globally among the South Asian diaspora.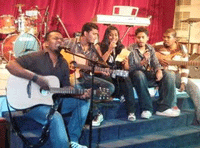 The keynote plenary speakers and topics allocated who spoke on the "
Beyond Boundaries
" theme were as follows:
"
Beyond Borders
" - Ernest Victor - Chaplain of St. Martin's Anglican Church from United Arab Emirates
"
Beyond Excellence
" - Dr George Kovoor, Chaplain to the Queen of England and Principal of Trinity College Bristol from United Kingdom
"
Beyond Fears and Failures
" - Sungeeta Jain – Founder of The Orphanage Project from USA, India
"
Beyond Imagination
" - Mr. Glenn Knight - Lawyer from Singapore
"
Beyond Socio-Economic Structures
" - Datuk Denison Jayasooria - Principal Research Fellow from Malaysia
"
Beyond Strongholds
" - Pastor Kulbal Singh - Pastor/ Revivalist from Australia
"
Beyond the Visible
" - Bhab Bahadur Ghale - General Secretary of United Vision Nepal from Nepal
Each of the speakers delivered relevant and challenging messages inspiring many of the delegates towards becoming visionary, mission-focused leaders, as they purpose in their hearts to serve God in this generation.
A large number of young people made public and private commitments to serve God's purposes locally and globally wherever God may take them.
Our prayer is that God will birth many more visions, dreams and strategies transforming each SAGC 2009 delegate into world-changers and history-makers for the South Asian community and beyond.
It was unanimously expressed that SAGC 2009 was a blessing from God with inspiring examples to follow, practical ideas to implement, and lasting friendships to develop.
Delegates were equally impressed with the organization of SAGC 2009. The organizers are commended for their spirit of professionalism and excellence. Hearts were full of gratitude towards all the pastors, mission agency leaders and brothers and sisters in the worldwide community, who have graciously contributed to see the gospel presented to the South Asian community in a culturally-relevant, Bible-based and Spirit-led way.
The major monetary contributors for SAGC 2009 were Christian, Sikh and Hindu friends who gave the bulk of finances to sponsor and undertake the costs of holding a first rate convention
. May the Lord bless these Christian, Sikh and Hindu partners with favor, finances and a faith revelation of who Jesus is. To those Christian marketplace professionals and individuals who supported SAGC 2009, we extend our gratitude to you. We would also like to record that only one South Asian Tamil church financially supported SAGC 2009.
We put on record our deepest gratitude and thanks to TEAM SAGC consisting both of the local Singapore team as well as a dedicated team of international volunteers for hosting SAGC 2009 and making it a success
. Each of them did a phenomenal job of owning the vision of SAGC and going the extra mile to host a quality convention in Singapore.
Future plans for South Asian Connection include holding local, city-wide or country-wide South Asian events for youth and young adults in 2010 in the delegates country of origin, followed by an
International SAGC 2011 in a yet to be disclosed location.
SAGC 2004 was held in Vancouver, Canada
SAGC 2007 was held in London, United Kingdom
SAGC 2009 was held in Singapore
SAGC 2011 – city location will be announced soon.
Last word from Rev. Dr. TV Thomas, Advisor, SAGC 2009 and Co-Chair International Network of South Asian Diaspora Leaders (INSADL) –
"Why did a man whose physical stature was only five feet and two inches, born in Northampton, England become recognized as the "Father of Modern Missions"? The reason was because
William Carey in 1792 was willing to go "Beyond Boundaries"
to teach, preach and translate the Scriptures in India. The biblical roots of Carey's well-known motto for life "
EXPECT GREAT THINGS FROM GOD, ATTEMPT GREAT THINGS FOR GOD
" was from Isaiah 54:2-3. "
Enlarge the place of your tent; stretch out the curtains of your dwellings, spare not; lengthen your cords and strengthen your pegs. For you will spread abroad to the right and to the left and your descendants will possess nations and will resettle the desolate cities
." With all the intercessory prayer undergirding the preparation for SAGC 2009 we can expect great things from God. With the amazing team of SAGC 2009 resource personnel, including plenary speakers, seminar leaders and worship teams,
God is going to enlarge our vision, energize our faith, and explore new horizons. Let's believe and pray that each one of us will leave SAGC 2009 to attempt great things for God!
"
CONCLUSION
For more information regarding South Asian Connection and future events, you are encouraged to visit
South Asian Connection
website at
http://www.southasianconnection.com
To view the SAGC 2009 slideshow and videos capturing the highlights and reflections of this historic event, click here or visit Mr. Bilson blogspot at
"
Remember us for this, O our God, and do not blot out what we have so faithfully done for the house of our God and its services. Remember us with favor, O my God
". Nehemiah 13:14, 31b
Many, O LORD my God, are the wonders You have done.
The things You planned for us no one can recount to You;
were I to speak and tell of them,
they would be too many to declare
. Psalm 40:5
Glory to God in the Highest for SAGC 2009.
Feedback of SAGC 2009 Singapore
"SAGC 2009 is a pivotal cornerstone in missions among South Asians. This synergistic gathering of South Asian believers has helped identify areas of the world – both urban and rural - that desperately need the gospel. It has also helped establish fresh ideas and strategies to effectively evangelize these areas."
- Wilson Mathews. Youth Pastor, Vancouver, Canada
"I rejoice at the like-minded mission passion of the delegates at SAGC 2009. I saw God's fingerprint in raising up a South Asian army for the nations. The Lord is truly the Lord of missions. Like iron sharpening iron, the power of the Holy Spirit in the unity of His people has humbled me and ignited in me a passion for His name to be glorified among the nations".
- Rajwin Singh. Psychology Undergraduate, Singapore
"SAGC 2009 was a great breakthrough in my life as well as in the mission field where I am working. The "Beyond Boundaries" models, testimonies and teachings was a paradigm shift in my life and has caused me to come out of my small thinking patterns to possess the greater blessings that the Lord has kept for me."
- Esther Rani. Missionary Pastor, Bihar, India
"The recent SAGC 2009 "Beyond Boundaries" conference in Singapore has equipped me with deep spiritual knowledge, provided me with opportunities to share and connect with Christian youth from other counties. I congratulate SAGC 2009 for arranging such a wonderful conference with like-minded Christian brothers and sisters."
- Arif Boota. Youth General Secretary, Diocese of Peshawar, Pakistan
"SAGC 2009 was a great opportunity of connecting with old friends from around the world. It was particularly encouraging to see so many young South Asians on fire to serve our Lord Christ Jesus. My prayer is that God will also use SAGC to call young South Asians to serve as missionaries in developing countries too."
- Raju Bhagwat, Timothys All Program, ICF, Cambodia
"SAGC 2009 came at a defining moment in my missional call and career. The fruitful fellowship we experienced and the synergy generated, challenged me to push myself to a place that I've never been before . . . to test my limits . . . to break through all barriers for the cause of Christ and the sake of Gospel!"
- Dr Chris Gnanakan. Director of Training, Outreach To Asia Nationals
"SAGC 2009 was a wonderful time to get connected with like-minded, energetic, passion-filled young people and also experienced ministry leaders. It was a time of sharing with each other the wonderful journey of faith in the call of God for our lives. It was time to get encouraged to grow in Christ more each day and to serve God's Kingdom with more passion and with unity in Christ Jesus."
- Hosanna Manokaran. Medical Student. Belarus/India
"SAGC 2009 was an inspiring, educational and entertaining event. It so effectively filled a needed niche of bringing together Christian South Asians yearning to reach other South Asians with the Good News in a coordinated and collaborative way."
- Silva Kandiah. Nayajeevan, Florida, USA
"SAGC 2009 gave me an opportunity to build relationship with the South Asian diaspora and their mission engagements in different parts of the world. It was challenging and inspiring to hear their testimonies of mission 'Beyond Boundaries' and the concern they have for South Asia."
-Kasta Dip, Coordinator, South Asia Christian Youth Network
"SAGC 2009 provided such an important platform for mission, networking and Christian friendship to South Asian youth from so many nations. I feel so blessed, challenged and motivated by gathering in a convention like SAGC 2009 to challenge youth in this generation not just merely to think but get involved in mission prayerfully, strategically and actively in order to impact their surroundings and nations where they live."
-Satish Chettri, Church Planting Networker - Urban India Nepali Diaspora
"SAGC 2009 was a kairos gathering of South Asian youth mission leaders from around the world, providing a practical know-how global exchange of ideas and experiences in the mission field of the 21st century. The five days convention was just too short as the connectivity of the people of God was just gaining momentum."
P.K.M. Senior Member, Diocese of Peshawar- Church of Pakistan. Pakistan
"SAGC has connected me with like-minded passionate people across the globe. It has broadened my thinking, ignited my mind to have fresh new ideas and the testimonies burdened my heart to pray more, to do more so as to reach more as soon as possible."
- Edward W Kuntam. Anchor Nireekshana CBN-TV9 www.gurukul.tv, Bangalore, India
"SAGC 2009 has been an eye opener for me in many ways. The coming together of fellow ministry leaders from across the world provided an insight into the challenges and the inroads made in their respective countries in evangelization. The seminars and the beyond boundaries topics challenged us to come out of our comfort zone. The meeting together of various generations helped me as a young minister receive wisdom in ministry that comes with age and experience. Besides, it was a privilege to sit and converse with the Pauls of Christian ministry of these times.I cherish the memories of SAGC 2009 and look forward to being part of the next SAGC 2011."
- Robin Cherian. Youth Pastor, Dubai, United Arab Emirates
"SAGC 2009 was a great platform especially to the young people to gather for one common vision. There was a lot of input into our lives during SAGC 2009 and it has connected many people around the globe."
- Pubudu Liyanage. Tourism amd Hospitality Management Student. Sri Lanka
"SAGC 2009 can be described as Spectacular, Amazing, Grand and Commissioning. I will always cherish this significant part of my life even as part of the worship team for SAGC 2009. As a services manager and Co-ordinator of Youth Tunez, I personally value the 'Beyond Boundaries' theme which made me think in a global way yet work faithfully in a local context. We live in a selfish world especially in the West and in U.K. I have found that most people are always working hard to shrink their tents and want to do nothing for each other. I believe all the objectives of SAGC 2009 were fully achieved and I was able to both learn and exchange ideas and strategies and strengthen my relationships and networking which have been fruitful in the days after SAGC 2009."
- Aster Arif Khokhar. Services Manager/Youth Tunez Co-ordinator. London, United Kingdom
"SAGC 2009 Singapore has remained a remarkable defining moment in my life. I was uplifted spiritually to obey God's call in my life. Thank you so much for all the care and support SAGC showed me as a visitor and stranger but now whom I call friend and partner in the gospel. I am already waiting in anticipation for the next SAGC God-inspired movement.
- Yoel Thapa. Stock and Shares Investor. Kathmandu, Nepal
"It was a memorable experience being part of SAGC 2009. I dare say that none of this would have been possible without a 'personal voracious appetite' for 'Beyond Excellence.' I compliment and salute the organizers for an International event well conducted with precision and dignity befitting our Lord. It has been a wonderful opportunity of learning, growing and sharing in and from the word of God as expressed and propounded by servants of the Lord from 'beyond geographical and cultural boundaries.' May the Lord continue to enrich, empower and embolden SAGC as they plan and envision further events for the honor and glory of His Name."
- Lieutenent General (Retired) Ajai Barnabas Masih. Awaaz Immigration Consultancy. Baroda, India
"SAGC 2009 was God's great miracle in my life being an all-expenses paid trip which He provided at the last minute through a very generous and humble man! At the conference, God opened my eyes to the big picture of His plan for my life to reach out to South Asians and that I am not alone in this task. Through the conference God inspired me to pursue the vision that He has entrusted me and to multiply myself as a missions mobilizer to the South Asian community."
- Monina Dubduban. Administrator - Indo-Fil Fellowship. Makati City, Philippines
"For me, the five days at SAGC 2009 was an inspiring and exciting time. I had immense joy in connecting with my beautiful South Asian brothers and sisters from different parts of the world. The testimonies, times of fellowship and worship have greatly enriched me in my faith in Christ Jesus. I came away challenged with the things that God is currently stretching me in!"
- Anchalee Satjakankha. Undergraduate of Intercultural Studies. Surrey, Canada
"SAGC 2009 Singapore connected me to many like-minded South Asian Christians who are spread around the world and working for the Lord. It was a great time learning together with godly men and women of God. How good and pleasent it is when South Asians encourage each other for the glory of God."
- Benji Prasad Karra. Youth Pastor and International Evangelist. Hydrebad, India
Click Here for Full
SAGC 2009 Report
Spread The Word
Comments