Dr. Sadiri Joy Tira
Dr. Sadiri Joy Tira - Senior Associate for Diasporas - is the International Coordinator for Filipino International Network (FIN) --- "a catalytic movement of Christians committed to motivate and mobilize Filipinos globally to partner for worldwide mission". Sadiri, who goes by "Joy," is also currently the Global Ministries Diasporas Specialist for the Christian and Missionary Alliance in Canada. He serves on the Canadian Board of Directors of Serve-in-Missions (formerly Sudan Interior Mission), and is a member of EDINBURGH 2010 Commission VII: Christian Communities in Contemporary Contexts. Joy has been a member of the national Board of Directors of the Christian and Missionary Alliance (C&MA) in Canada, and a member-at-large of the General Council of the Evangelical Fellowship in Canada (EFC). He ministered in Edmonton, Alberta, Canada for over two decades, where he was the founding Senior Pastor of First Filipino Alliance Church. Before immigrating to Canada, he worked as an engineer with Operation Mobilization's ship M/V Logos, while his wife, Lulu, served as a nurse.
Joy received his theological and ministry training from Western Seminary (D.Miss.); Reformed Theological Seminary (D.Min.); Edmonton Baptist Seminary (M.T.S.); and Canadian Theological Seminary (M.Miss.). He is co-editor of Missions in Action in the 21st Century (Filipino International Network/Institute for Diaspora Studies –Western Seminary: 2008); Scattered: The Filipino Global Presence (LifeChange Publishing Inc., Manila: 2004), and contributor to the LCWE's Occasional Paper No. 55 on diaspora missions, The New People Next Door (LCWE: 2005). Joy is a missions practitioner who travels extensively around the globe mobilizing Christians in diaspora, particularly the globally scattered Filipinos to help fulfill the Great Commission.
Born and raised in the Philippines, Joy and his wife Lulu immigrated to Canada in 1981 and are now naturalized Canadians. They are based in Toronto, Ontario, Canada -- one of the world's most multi-cultural cities. (According to the City of Toronto's website, half of its population was "born outside of Canada"). Joy and Lulu have two adult children: Lorajoy and Tonyvic who are married to Dennis and Zenavid respectively, and who all make their home in Edmonton. When Joy and Lulu are not traveling, they can be found visiting their grandchildren, Santiago, Isabel, and Sophie.
Articles by this Author
Published 09/21/2010

Unrated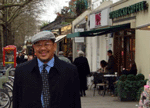 We need to educate our congregations to be effectively relational in our "global neighborhood." We need to try the new Somalian restaurant (for example) and then invite our friends there to expose them to the culture of our new neighbours. It is important for Christians to build cultural awareness that will result to authentic relationships making them credible witnesses for Jesus Christ . . . . We now have an unprecedented opportunity to introduce the Diasporas to Jesus Christ and invite them to become part of His Church. With Lausanne Diasporas, we are proactively responding to this major global trend of Diasporas and the Diaspora issue will be addressed at Cape Town 2010. Pray that Diaspora Missions will be embraced by the Whole Church.