Jatinder Gill
Pastor Jatinder Gill pioneered and is the Senior Pastor at Bethlehem Punjabi Church in New York City. He is a Bible Teacher, Evangelist & Translator. (Translated 35 books into the Punjabi language.) He was born and brought up in Punjab, India. In 1991, he was miraculously saved in a Bible Seminary in the city of Dehradun, India where he happened to be without knowing it was a Christian seminary. After his theological studies. Jatinder planted 3 churches in India and in 2000 moved to USA and pioneered Bethlehem Punjabi Church, New York. He holds a Bachelor of Arts in History Honors from Delhi, a Bachelor of Theology from Dehradun, India and a Ministry Administration from Global University, USA.
Articles by this Author
Published 06/24/2008

Unrated




Whatever reason might have brought you to this website, one thing is certain. God has a plan and purpose in your life. You are not here by chance or accident. You have a specific God-given assigment on this earth. You are precious to God and He loves you so much, that is why He has created you in His own image. You can't find God's purpose and plan in yourself, or in other people, or in the things of this world. God has made that plan for you and that plan can only be found in God alone.
Published 05/31/2008

Unrated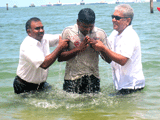 One of the most important things for a child of God is to be obedient to Him. The Bible says obedience is better than sacrifice. Baptism is a step of obedience for the believer to the command of our Lord Jesus Christ as found in Matthew 28:19-20 "Go therefore and make disciples of all the nations, baptizing them in the name of the Father and of the Son and of the Holy Spirit, teaching them to observe all things that I have commanded you; and lo, I am with you always, even to the end of the age." Amen. Henceforth, water baptism is not a personal choice, but a command for all believers (Mark 16:16).
Published 05/26/2006

Unrated




A purpose driven life is not a lazy life of idle faith, but an intentional, meaningful life of purpose . . . We are made for eternity. Whatever we do now will affect our life eternally. We can't change our past, but we can change our present by turning to God. Our present will in turn affect our future. Read on as Pastor Jatinder Gill inspires you to be a purpose driven believer.