Wilson Matthews
Wilson is the youth leader at International Punjabi Masihi Church in Vancouver, Canada. Everyone loves this radical preacher's passion for Christ and His Church. Wilson helped organize the South Asian Global Convention (SAGC 2004) under the leadership of Pastor Pritam Singh. He is as "hairy-as-a-yak," "spits-like-a-camel," and is a F.A.T. (Faithful, Available, and Teachable) Christian. Wilson, a Malayalee Christian holds a BA in Biblical Studies from Trinity Western University and his mission is to make Scripture relevant to today's generation. Famous quote: "Knock it off!"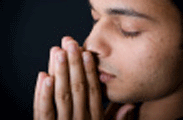 I asked God for strength, that I might achieve;
I was made weak, that I may learn to humbly obey.
I asked for health, that I might do greater things;
I was given infirmity, that I might do better things.
I asked for riches that I might be happy;
I was given poverty, that I might be wise.
I asked for power, that I might have the praise of men;
I was given weakness that I might feel the need of God.
I asked for all things, that I might enjoy life;
I was given life, that I might enjoy all things.
I got nothing that I asked for,
But everything I hoped for.
I am, among all men, most richly blessed.
Anonymous
Mr. Bilson
Spread The Word
Comments