Global Day of Prayer - May 23rd 2010
Pritam Singh Sandhu
Pastor Pritam Singh Sandhu is a Punjabi Christian and live in Singapore. He is the
founder of South Asian Connection
http://www.southasianconnection.com and lead
Pastor of South Asian International Fellowship
http://www.saifchurch.com - a multicultural church reaching out to the South Asian community in Singapore and beyond.
South Asian International Fellowship also has a SAIF-Telugu and SAIF Tamil congregation - a focused targeted weekly evangelistic ministry to the migrant workers of Telugu and Tamil origin in Singapore mainly of blue collar shipyard and construction workers and some mission focussed Indian Singaporean PR families.
SOUTH ASIAN INTERNATIONAL FELLOWSHIP
SUNDAY SERVICE
SAIF English Service
5.00 – 6.30pm
SAIF Telugu Service
  8.00 – 9.00pm
SAIF Tamil Service
    8.00 – 9.00pm
Location - COVENANT HOUSE 110, Race Course Road, Singapore (218578) - 5 Minutes Walk from Little India MRT Station EXIT E
The Vision Of South Asian International Fellowship Is To Establish An International New Testament Type Ministry Through Which South Asians Will Be Empowered To Reach And Disciple The Nations For Christ.
Pastor Pritam Singh Sandhu is also the International Coordinator for the South Asian Global Convention http://www.SAGC2009.com - an International Gathering for South Asian Christian Youth and Young Adults for Mission Mobilization. He has served as the Youth Pastor/ Leader of Khush Khabri Fellowship in Singapore [1996-2000, 2005-2007] and Youth Pastor at the International Punjabi Masihi Church in Vancouver, Canada [2000-2005].
He was a former Sikh-Christian now, a dreamer, a visionary leader and a risk-taker in God's Kingdom. He is passionate about young people and mentoring the Next Generation of South Asian leaders. He is also interested in networking among churches and engaging the cultures.
Pastor Pritam Singh Sandhu was a Biology and Chemistry teacher at Bukit View Secondary School and Vice-Principal at BMC Training Institute, a private education school in Singapore. He holds a Bachelor of Science [Biology] degree from the National University of Singapore, a Post-Graduate Diploma in Education [Distinctions] from Nanyang Technological University, a Certificate in Christian Ministry from the Asian Christian Training School in Malaysia and a Masters of Christian Studies in Applied Theology from Regent College in Vancouver, Canada.
Pastor Pritam Singh Sandhu is also a Singapore registered licensed marriage solemnizer and conducts both civil and ceremonial marriages.
Pastor Pritam Singh Sandhu has two children - Sujaan Kaur Sandhu [born 21/06/04] and Saajan Singh Sandhu [born 04/01/09], and is married to Dr. Balbir Kaur Chaal, a UK-born Punjabi Christian and Cambridge University educated molecular biologist.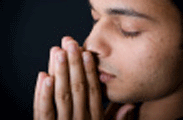 "South Asian Connection actively prays, partners and promotes the Global Day of Prayer to saturate the world in prayer. This synergistic, united grassroots mobilization with local, national and global partners to serve God's purposes in our generation will be a strategic step in completing the task of the Great Commission of our Lord Jesus Christ. God is indeed raising up an invinsible army of prayer intercessors of men, women, youths and children of every tribe, tongue, language and people group in these urgent times who will pledge their 100% allegiance to Jesus Christ, are sensitive to the voice of the Holy Spirit so that God's eternal purposes will be fulfilled."
Pastor Pritam Singh Sandhu,
Founder, South Asian Connection
http://www.southasianconnection.com
*This is South Asian Connection endorsement of the Global Day of Prayer as found in the
Global Day of Prayer
website.
*
GLOBAL DAY OF PRAYER - Sunday May 23rd 2010
GET INVOLVED AND DO YOUR PART IN PRAYER WITH ONE DESIRE - TO SEE THE NATIONS WORSHIP GOD.
*FOR MORE INFORMATION ON THE
GLOBAL DAY OF PRAYER
at a location near you in your town, city or country
~ PLEASE CLICK
Global Day of Prayer
Spread The Word
Comments