As a believer of true love and a lover of life, I perceive copulation as a holy and a sacred act. It is a God glorifying act that celebrates the covenant of marriage which is the physical and spiritual union of two monogamous individuals. It is a pure and powerful act that strengthens the relationship and it is well known among married couples that a good sex life is essential for a healthy relationship that is edifying to the two individuals. Sex is the act that consummates the marriage. It unites and cleaves the two individuals together that they shall metaphysically become one flesh. Read on as Rajwin Singh, a single guy researches and writes about "Sex" a taboo subject to most South Asians!
Published 03/28/2007

Unrated




People often get married while they are in the honeymoon stage of their relationship, thus they have never worked through the grid of their relationship when all those euphoric feelings are missing. Also, most men are clueless in regards to the state of their relationship with their spouse. A few years after I was married, someone once asked me how my marriage was and I said great, not knowing that my marriage was in trouble because my wife was feeling alienated from me emotionally. If leaders would just learn to properly prioritize their marriage and family, focusing properly on what matters most, then all the other things they desire for significance will manifest in their proper time!
Published 12/21/2006

Unrated




This is how the birth of Jesus Christ came about: His mother Mary was pledged to be married to Joseph, but before they came together, she was found to be with child through the Holy Spirit . . . . an angel of the Lord appeared to Joseph in a dream and said, "Joseph son of David, do not be afraid to take Mary home as your wife, because what is conceived in her is from the Holy Spirit. She will give birth to a son, and you are to give him the name Jesus, because He will save his people from their sins." All this took place to fulfill what the Lord had said through the prophet: "The virgin will be with child and will give birth to a son, and they will call Him Immanuel"—which means, "God with us." . . . . With this timeless truth and hope, we wish all South Asian Connection readers, viewers, friends and family a Blessed Christmas.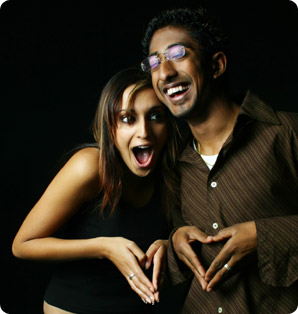 Marriage is a divine institution and we must seek God's help and guidance to make it work. The Bible speaks a lot about marriage - the way it is intended to be in the first place. However, with the pressures of modern lifestyle and demanding careers, marriage is often kept in the back burners for the urban families. Marriages do not crumble overnight but slowly over a period of time due to steady neglect. Sam George identifies 10 Marriage Killers and cautions us to guard our marriages lest we too fall through the cracks and become a statistic for seperation or divorce.