Published 11/17/2009

Unrated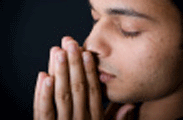 We live in an an age where success is all about sound bytes. It is about being seen, being heard and being recognized. We want to be 'seen' busy. We want to be where the 'action' is.We live and believe in 'aspirational' christianity and so all what we 'spiritually' are is put on Face Book. We are ever in a 'broadcast' mode as we get lost in the craze for the world of megapixels and megabytes. And often times, we gain the whole world's attention but end up losing on the heavenly joy of 'rooting' people in spirituality and 'building' them up to live out faith when it matters and where it matters.
Published 10/16/2009

Unrated




Diwali, also known as Deepavali, is a 'festival of lights' celebrated especially by Hindus, Sikhs and Jains. This festival is spread over three to four days and is one of the most anticipated times of celebration. Homes are lit with hundreds of deeya (clay oil lamps) during the season, to signify victory of good over evil. The day of Diwali is the highlight of this celebratory mood. Families get together to start the day with oil baths, then exchange gifts and sweets, followed by the most exciting event of the year - family fire works. Fireworks begin before the crack of dawn and go well into the day. No amount of description is sufficient to capture all the excitement and celebrations associated with the Diwali festival. You have to be there to experience it.
We just cannot live the victorious life or be of maximum use to the Lord, or be a blessing to others in any place we choose. Some may feel that they can choose their own career and their place of residence and then seek to be a witness for the Lord wherever they are. The Lord may in His mercy use such believers in a limited way. But their usefulness in God's vineyard will be only a fraction of what it could have been had they earnestly sought His plan and remained in the center of His perfect will. Stunted spiritual growth and limited fruitfulness are but the consequences of a careless disregard of God's laws.
Seven Mile Road is three weeks into weekly corporate worship. So far, we've been a bit spoiled. Everything we've touched has turned to gold. We need a website – we get a killer one for free. We need a space – we get to use a building sitting on six acres of land. We throw a barbeque – 115 people show up. We launch our first service – we put out seventy chairs but need more to accommodate everyone. . . . So then, it was a shock to my system when we showed up for service in week two and there were only 33 people there. Now I know in my head that numbers don't matter. Folks on the team thought to themselves, "where is everyone?" Regular visitors came into the room and looked at their watch to make sure that they weren't there early because they didn't see people. People noticed.
At the altar Mark Buntain, a missionary to Calcutta from North America laid his hands on me and said a prophetic prayer as to how God would use me one day to impact millions. Now I see the fulfillment of this prayer. I was married on January 27, 2000 in Calcutta to my beautiful wife Mary, and I moved to the United States on February 22, 2001. I left home with $50 and two suitcases stuffed with my clothes and books for a new life overseas. In about four weeks on arriving on the east coast I ended up for an interview at Network Plus on the 81st floor of the World Trade Center. I was escorted to the conference hall. Through the glass windows of the room I saw the most glorious sight of all - the Statue of Liberty.