I worked on the 81st floor of the North Tower or Tower 1 of the World Trade Center and my wife Mary worked on the 71st floor of the South Tower or Tower 2. It was just an incredible experience working in this incredible building especially for an immigrant who had just arrived in America in February of that year. We enjoyed so much working together in the same complex. . . . . "September 11, 2001, started out as such a nice day- no, a beautiful day. Then it all turned. 9:05 am. Terror struck America and changed us forever. None of us will ever forget where we were, who we were with and what we were doing that fateful day when tragedy struck America on what looked like a beautiful day in New York city . . . As we deal with the loss of thousands of innocent lives we were also reminded that history books will also tell the tale of many Americans that faced terror with courage.
Published 08/31/2009

Unrated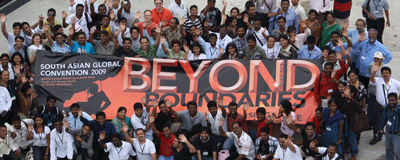 The South Asian Global Convention 2009 (SAGC 2009) took place from July 22-26, 2009 in Singapore. SAGC 2009 is the Third Trans-Denominational and International Christian Gathering for South Asian Youth and Young Adults for Mission Mobilization. "This day is sacred to our Lord." Nehemiah 8:10c. The theme chosen for SAGC 2009 was "Beyond Boundaries" based on Isaiah 54:2. Many, O LORD my God, are the wonders You have done. The things You planned for us no one can recount to You; were I to speak and tell of them, they would be too many to declare. Psalm 40:5 Glory to God in the Highest for SAGC 2009.
Connext 2009 is the Convergence of Emerging South Asian Christian Leaders. Its purpose is to gather young Christian leaders of the South Asian community to connect, encourage, equip and serve together for Kingdom Impact. The theme for Connext 2009 is "Unleashing Your Leadership Potential." Connext 2009 is a three-day gathering of young South Asian Christians to transform participants personally, professionally and spiritually in their leadership calling, abilities, and development and to identify, invest, resource and further support key emerging leaders in the community on an ongoing basis. Click here to the
Connext 2009
website.
I am very excited about the forthcoming gathering of young South Asian Christian leaders of North America. Last one was in New York in Sept 2007 and we saw great momentum in what happening among South Asians Christians all over the continent. This time, it is going to be in Chicago and I am part of the local organizing team. This year's focus will be on leadership development and we have a great line up of leaders as resource people. Theme is "Unleashing the Leadership Potential." See details at www.connextonline.org
Published 07/2/2009

Unrated




What is striking and humbling is that Peter could have refused to hear Jesus' words or at any point said, 'No' to his: 'let me use your boat', 'launch out deeper' or 'follow me to be a fisher of men'. At that particular point, Peter would have missed out, not just on the catch of fish, but in experiencing the miracle and more so the blessing of being called and sent in Missio Dei! Peter goes deeper, risking the loss of his reputation and career only to gain an experience of God in Christ. He discovers Christ is no ordinary teacher-preacher or miracle-worker, but God's agent and his 'Lord'. Jesus is Liberator from guilt and sin; Lord of Peter's daily work and the true Leader of our missionary endeavors. He finds 'in Christ', God's grace is greater than all our sin, Truth that sets us free and Love that casts out all fears.