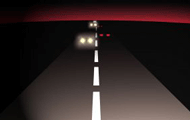 God Will Make A Way, Where There Seems To Be No Way, He Works In Ways We Cannot See, He Will Make A Way For Me, He Will Be My Guide, Hold Me Closely To His Side, With Love And Strength
For Each New Day, He Will Make A Way, He Will Make A Way - By A Roadway In The Wilderness
He'll Lead Me, And Rivers In The Desert Will I See, Heaven And Earth Will Fade, But His Word Will Still Remain, He Will Do Something New Today

One Way - Jesus - You're The Only One That I Could Live For - One Way - Jesus - You're The Only One That I Could Live For - You Are Always, Always There - Every How And Everywhere - Your Grace Abounds So Deeply Within Me - You Will Never Ever Change - Yesterday Today The Same - Forever Till Forever Meets No End - You Are The Way The Truth And The Life - We Live By Faith And Not By Sight For You - We're Living All For You
Moved by the Holy Spirit, the man instantly composed a song which became famous down the years. He sang:
I have decided to follow Jesus. (3 times)
No turning back, no turning back.
Enraged at the refusal of the man, the chief ordered his archers to arrow down the two children. As both boys lay twitching on the floor, the chief asked, "Will you deny your faith? You have lost both your children. You will lose your wife too." But the man sang these words in reply:
Though None Go With Me, Still I Will Follow (3Times)
No Turning Back, No Turning Back . . . . .
The World Behind Me, The Cross Before Me (3 times)
No Turning Back, No Turning Back.
He was shot dead like the rest of his family. But with their deaths, a miracle took place.
I Surrender All ~ I Surrender All ~ All To Thee My Blessed Savior ~ I Surrender All ~ All To Jesus I Surrender ~ All To Him I Freely Give ~ I Will Ever Love And Trust Him ~ In His Presence Daily Live ~ All To Jesus I Surrender ~ Humbly At His Feet I Bow ~ Worldly Pleasures All Forsaken ~ Take Me Jesus Take Me Now ~ All To Jesus I Surrender ~ Make Me Savior Wholly Thine ~ Let Me Feel The Holy Spirit ~ Truly Know That Thou Art Mine
Seek Ye First The Kingdom Of God ~ And His Righteousness ~ And All These Things Shall Be Added Unto You ~ Allelu, Alleluia ~ Man Does Not Live By Bread Alone ~ But By Every Word ~ That Proceeds From The Mouth Of God ~ Allelu, Alleluia ~ Ask And It Shall Be Given Unto You ~ Seek And Ye Shall Find ~ Knock And The Door Shall Be Opened Unto You ~ Allelu, Alleluia