Published 02/17/2011

Unrated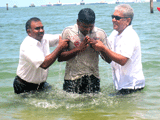 Water baptism technically is when a believer is immersed in water in a public confession of his/her faith in Jesus Christ. Water baptism is an act of obedience to His commands. Water baptism is a physical show of what spiritually happens in a person's life when he or she believes in Jesus. The Bible states: "Therefore, if anyone is in Christ, he is a new creation; old things have passed away; behold, all things have become new." II Corinthians 5:17. Water Baptism is an act of obedience and an outward symbol of the internal change after accepting Jesus.
Published 09/9/2010

Unrated




The contribution of Christians to the West is enormous. Christians were the first the build hospitals. Initially it was mainly for Christians, later it was for every one. The beneficiaries were the Muslims who came to Christian lands to conquer them. Christianity produced leaders like who served the poor and sick, which is unheard in other religions. Christians have contributed to improve human life and reduce human suffering. . . . . . The author presents Lord Jesus Christ as Saviour and how Christianity could change a person's life in the last two chapters. It is a wonderful book that should be read by all Christian thinkers and use this book for evangelizing the intellectuals. All Christian leaders, pastors, missionaries and professionals should read this book.
Published 08/28/2010

Unrated




Spiritual need touches every class in India, whether traditional village farmers who have practiced the ways of their fathers for hundreds of years, or workers in its new and fast-growing hi-tech industries. In cities like Bangalore, Hyderabad/Secunderabad and Delhi, a new and upwardly mobile class represents unique challenges. "The rapid growth of the high-tech industry in India, provides one of the newest, largest, and most influencial unreached people groups in the country," according to Dr. T. Valson Abraham (President of India Gospel Outreach).
Published 03/8/2010

Unrated




Mark Zuckerberg is the founder and CEO of Facebook. "Facebook has two 'newsfeeds,' a personal one unique to your Facebook home page, and a corporate one, available for reviewing by all of your 'friends'. The combination of these two feeds is what Facebook calls 'the stream'" (p.68) "Facebook was, in many ways, simply the next generation of software that could 'learn' your personal preferences and customize advertisements just for you." (P.69) . . . . Facebook has universal appeal to people of every age. Facebook is becoming multimedia platform with 850 million photos uploaded to Facebook every month and 7 million videos in 2009.
Published 12/1/2009

Unrated




Our minds have a central place in our spiritual lives. Romans 12: 2 teaches that we need to be transformed by the renewing of our minds and that without this renewal we cannot know God's will. Without the knowledge of God's will, we won't be able to live lives that are pleasing to God. Moreover, we are to love God with our minds, because He created us as rational beings in His own image and likeness and intellectual growth is an integral part of spiritual growth. That is what we learn from the life of our Lord Jesus Christ (Luke 2:46-47 & 52) and the lives of Daniel and his friends (Daniel 1:4 & 17). Even in the Christian life it is very critical, because it is a discipline that strengthens the mind and enriches the soul. Strengthening the mind is very important, because we are to serve the Lord, our God with all our hearts, with all our souls and with all our minds.