The South Asian Christian diaspora is largely invisible in the literature about religion and migration. This is the first comprehensive study of South Asian Christians living in Europe and North America, presenting the main features of these diasporas, their community histories and their religious practices. The South Asian Christian diaspora is pluralistic both in terms of religious adherence, cultural tradition and geographical areas of origin. This book gives justice to such pluralism and presents a multiplicity of cultures and traditions typical of the South Asian Christian diaspora. Issues such as the institutionalization of the religious traditions in new countries, identity, the paradox of belonging both to a minority immigrant group and a majority religion, the social functions of rituals, attitudes to language, generational transfer, and marriage and family life, are all discussed.
Published 10/2/2008

Unrated




POPULAR actress Nagma opened up about her faith and mission in her life for the first time to the media in an exclusive interview with The Christian Messenger. This newspaper's founding editor Robin Sam spoke to her for close to five hours in an exhaustive interview concerning her faith, the recent issue over her testimony at Nalumavadi in Tamil Nadu, the rising violence against Christians, her personal life and plans for the future. Excerpts: When did you come to realize the saving power of Jesus Christ? I was born on Christmas to a Muslim mother and a Hindu father. I went to a convent school from childhood. I was exposed to Christianity from a young age. I went to Mount Mary Convent School in Bandra, Mumbai. There, Mass was a routine feature. I always thought I am very special to God because I was born on Dec 25th - perhaps because the world celebrated the day.

Published 07/5/2008

Unrated




One thing I have written before is that Satan, our enemy, loves to imitate the things of God and make a mockery of the things he cannot imitate. In her book, True to His Ways, Ms. Davis goes into great depths pointing out the biblical errors in major counterfeit religious beliefs of our day. The information given on the spiritual dangers of yoga is invaluable in regards to biblical discernment. Christians who think that yoga is a harmless form of exercise to relieve stress are deceived. Just like Eve, these Christians are eating a forbidden fruit of spiritual destruction. And the serpent said unto the woman, Ye shall not surely die: - Genesis 3:4 [KJV]
Published 06/13/2008

Unrated




A Biblical Approach to Indian Traditions and Beliefs fills a need for Indian Christians who are searching for guidance when confronted with beliefs, traditions, rituals and practices in the non-Christian Indian community. This book: * Reveals the truth about Christian living. * Discusses certain Indian spiritual and religious practices. * Gives advice on the daily struggles of believers. Written from the agape (love) perspective, this resource is helpful for the new convert to Christianity, the generational Christian who may need to adjust his life, and leaders who seek some form of consistency in approaching the Indian Diaspora.
Published 05/31/2008

Unrated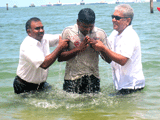 One of the most important things for a child of God is to be obedient to Him. The Bible says obedience is better than sacrifice. Baptism is a step of obedience for the believer to the command of our Lord Jesus Christ as found in Matthew 28:19-20 "Go therefore and make disciples of all the nations, baptizing them in the name of the Father and of the Son and of the Holy Spirit, teaching them to observe all things that I have commanded you; and lo, I am with you always, even to the end of the age." Amen. Henceforth, water baptism is not a personal choice, but a command for all believers (Mark 16:16).