Online Dating!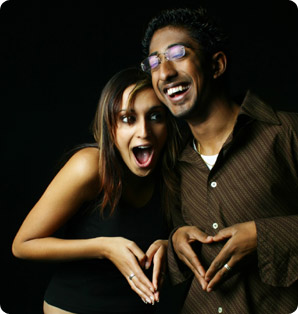 You probably clicked this link out of interest, disbelief, sheer curiosity, or your finger accidentally twitched while your cursor was innocently sliding over the link. Yea right! You're not fooling anyone! Nevertheless, you're here, so hear us out.
Unless you have lived in a cave in the Himalayas for the last thirty years, you're probably aware that our culture has gone through rather significant changes in recent years. No longer is marriage arranged by moms and dads and uncles and aunties sitting and having
chai
(tea in Hindi) together, plotting the course of their children's lives. Young people today find each other on their own and get married for love - not that this is a new phenomenon, but it is becoming increasingly common. We are not condoning this change, neither are we condemning it - we're simply pointing out a fact.
Here's the crux of what we're trying to say: SAC is not a matrimonial site or an online dating service like Shadi.com. Hint: Finding your special someone is better done in person! Neither are we an imitation of Friendster; go get a REAL social life!
We are a community of South Asian Christians. Read the SAC Values. Sure there are hundreds of single young adults that visit this site each week and maybe your future spouse is a part of this global community. But we ask that you'll trust God to bring the two of you together and not try so hard to make it happen on your own. While you're waiting, get to know your Creator, the Lover of your soul, and cultivate the relationship that cost the greatest price, for it is the most valuable.